Description
One of a a kind unisex Gilet
Silvaplana protects you from wind and is water repellent. This is the perfect garment for spring and summer or layered over a light winter jacket.
Silvaplana is a reused kite and recycled micro ripstop gilet, it has a hood with faceshield which is adjustable through the zippers. There are wide pockets for your essentials, and an additional hidden zipped pocket under the flap to secure your valuable items.
What makes Silvaplana gilet so special is the wide pocket on the back, if you fold it over it turns into a backpack where you can neatly store the gilet while you are not wearing it.
A dedicated trim is set on the back to hang your vest easily on the coat rack.
You can attach your favourite custom pocket on the inside lining with the dedicated snap buttons.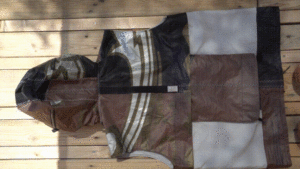 Silvaplana Gilet was developed thanks to a collaboration project with the STA students and teachers. Read more about the project!