Kiter:
Cavour.
Type of Kitesurf Kite:
Naish.
Arriba Arriba.
North.
Crazyfly.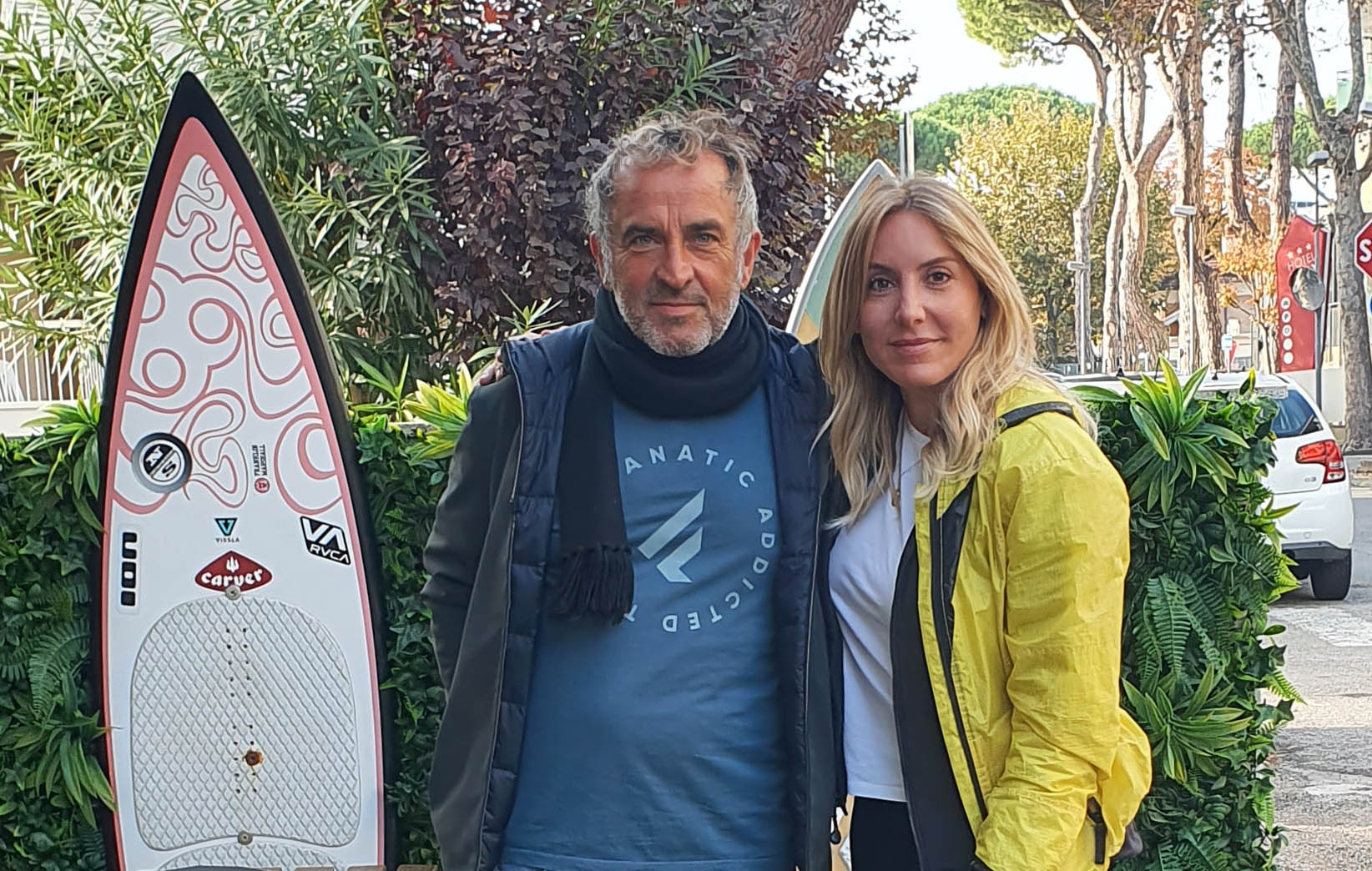 Cavour knows something about kitesurfing. Born in 1960 , Cavour runs along with his wife Renny the "Surf Paradise" store in Riccione which is a real landmark for all sports lovers and specifically concerning windsurfing, kitesurfing, snow and skateboarding. Cavour is the classic "romagnolo", sunny, spontaneous and loves contact and talk with people. In 1980 at the age of 20 he started windsurfing. Then in 2000 he started kitesurfing and from 2021 he jumped into wingfoiling.
His job combined with his passion gave him the opportunity to personally meet a myriad of kitebrands and kiters that over time have become great riders and real icons of the kitesurf scene.
Here's what he tells us about the many kites he donated to Far:
"ARRIBA is in my heart because Ricky was a great friend. He was born as a board manufacturer. His boards had beautiful graphics and were super successful. At some point he started producing also kites. Arriba was pretty known, he used to sell even in the Arab Emirates.
Cavour goes on telling me about his Naish kites
"What bonds us is the great Albi (Alberto Rondina). We surfed together with this Aero! It was like learning , we did the jump, the first back… but he was a little more stylish than me 😉 he was only 12 years old. I don't remember how old I was, I was already lost. Then he went to Maui and became an amazing kitesurfer. Naish was everyone's passion. All those who come from windsurfing own a Naish! Everyone always loved Naish"
… and then with Waiman
" I carry other beautiful memories about Waiman, I met them all, they came here to Riccione to do demos, they were super funny and friendly…Porcella, Orly…I still have a picture that we took together. Waiman is an amazing product!
It was exciting to liten to Cavour's stories, a bit like having taken a leap into the past with him and being there in the moment I cut and sewed his kites and turned them into unique garments.
"I've never been an athlete, but I've tried them all. North is definitely the one I liked most of all, I had a meeting with them in Mauritius. I have wonderful memories… the first big waves 5-6 meters, things like this… in the years 2007-2010"
I went to Riccione to get Caour's kites, first because it was a chance to meet old friends, and second because he really had so many of them that I wanted to choose them personally. Now it's time to say goodbye to Cavour and my beloved Romagna to get back to Switzerland.