Name of the kiter: Fabiano
Name of the kite: The one of my heart that I gave to Cristina, is a Cabrinha Crossbow 7mt from 2005.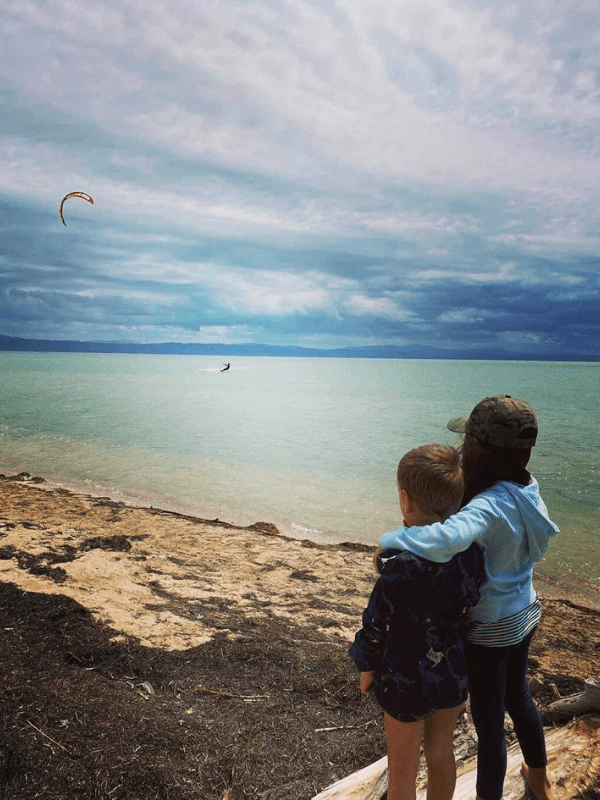 How did you discover your passion for kitesurfing? It discovered me As soon as I arrived in Sal for a trip, I took a walk on the beach and a guy asked me if I could have taken the kite to make it land. I had never seen a kite before, but I took it and put it on the ground. The guy thanked me and I thought "that's cool!". My wife asked me if I knew how to do it and I said no. The following days I looked at the kiters and got a bit of information around. Once in Boavista I decided to try, and in that moment I realized the difference: the kite is not tested, either you do it or you don't! I met the only guy who could give me lessons, a Brazilian named Attila, married to a woman from Bergamo. He got me started with the simulator leaving me alone for the whole morning. Then I switched to the kite, a 2004 North Rinho, a 4-line C, and he taught me safety, release, launch and relaunch from the water, he let me try hooked and unhooked. Then I moved on to body drag, pure love. Last day, no wind. I went back to Italy, I bought a Naish Raven 12 MT, trapeze, and I looked for a school to finish what I had learnt. I found a place about 50km from home and I went, every Saturday, every Sunday, every time there was a breath of wind I was in the water, alone. I loved this sport because it's not a sport, it's a passion, it's sacrifice, days waiting for the wind and then it's not there. When you work there is wind, when you are free nothing, you have to be ready as with a woman, if she calls you have to be there, maybe for an hour, or after 2 by car, but that hour together repays everything, you come home smiling like a kid. Cycling, football, tennis are sports, kiting is a passion, a way of life, nature commands and you must be ready.
How was your first time? Faces in the water and fly without a board and without control.
Which seas have you crossed the waves? Friuli, from Monfalcone to Lignano, passing through Grado and Fossalon, the Stagnone, Egypt, Spain, Tarifa, Algiaciars, Cadiz.
Tell us about the most beautiful adventure you have experienced with your sail. Absolutely Capo Trafalgar in Spain, a 50km Levante, my 7 was too big, I went out with a loaned 5, I'd never seen the waves being like those, I couldn't get out because they didn't crash with such power on the shore. I went out in body drag, once out I put the board and a wall of water overhangs me, I throw the kite down and I surfed the wave, my God I'm surfing! Nothing more beautiful!
Which garments would you like your glider to transform into? In all that Cristina manages to create, my kite has given me so much and is worth nothing for the market, keeping it in the closet is useless, if it becomes a jacket, a bag, a wallet, no one knows that it is carrying around a little about me, but I do!