Kiter:
Laura Basile DJ.
Type of Kitesurf Kite:
Kiteloose.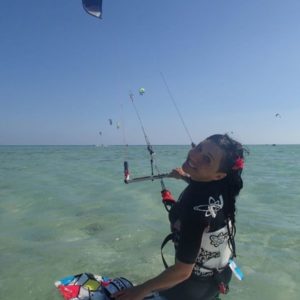 How did you discover your passion for kitesurfing?
It was in 2004, I was alone on holiday in Cape Verde. I was trying to find myself after a personal tough time. When I saw those sails fluttering in the air handled by cheerful carefree guys and girls, I completely fell in love with them. I really felt the sense of freedom generated by kitesurfing. The connection with nature and the desire to challenge myself came out immediately.
How was your first time?
On the ground I did great, I was able to immediately understand how to handle the wing using balance and strength , but then in the water I swallowed half of the Atlantic Ocean.
Which seas did you rode the waves of?
All Italian seas and some beaches of the Atlantic Ocean, but the most beautiful waves I rode were at Shark beach in Sal, Cape Verde.
Tell us the most beautiful adventure you lived.
It was of course  in Cape Verde while doing an amazing downwind. We sailed along with dolphins and turtles. Then I dorpped by in Ponta Preta which is usually populated with pros, but that day it wasn't crowded and I could experience the thrill of surfing waves, what an unforgettable experience!
Which garments would you like your kite to be transformed?
A nice windbreaker and a sporty but elegant bag 🙂